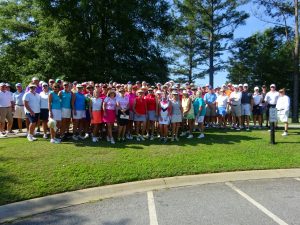 Our spotlight event of this past week was our annual Member-Member Tournament. There were 45 teams in all, 19 Ladies teams and 26 Men's teams. After two days of play we would like to congratulate our winners. Men's 2017 Member-Member Champions, Paul Clark and BIll Newton. Ladies 2017 Member-Member Champions, Betty Adams and Laura Jennings. We would like to say thank you to all members who participated. Check out some of our members in action in our gallery below!
This week we are ready for another event filled week. Our weekly events such as Ladies Bible Study, Mahjong, Euchre, Book Club and MGA and LGA play will continue. 9 & Dine this week will feature a North Carolina Style BBQ Buffet. Members if you haven't signed up please do so now in the Pro Shop! This weekend we look forward to hosting the Men's Invitational Amateur & Senior Championship Golf Tournament apart of the annual Festival of Flowers in Greenwood, SC. We have over 50 players signed and can't wait to kick off another great tournament. Another highlight to the weekend will be our 70 is the New 50 Party for all members turning 70 to celebrate down at our Cabana with so great music, fun, food, family and friends.
Members with the summer in full swing don't forget to go lounge and dine at the Cabana. And don't miss this Monday, June 12th for All You Can Eat Peel-N-Eat Shrimp from 4pm-7pm! You must RSVP to participate. Also, don't forget to reserve your place at the following upcoming events:
Sunday, June 11th – Comfort Food Buffet
Wednesday, June 14th – Trivia Night "Dad, bring Mom but it's all about you."
Sunday, June 18th – Father's Day Lunch Buffet
Have a great week!