Summertime is in full swing as we continue to have beautiful weather here in South Carolina. This past week we continued our weekly events and are looking forward to this week. Last week we hosted 70's themed Trivia Night down at the Cabana on Wednesday and over 15 couples joined us for 9 & Dine this past Thursday. We look forward to continuing good times here at Grand Harbor as we take in these wonderful Summer days.
We have a very special highlight of the week as we go back to the Juniors Clinic to congratulate Graham Thompson. Graham, the grandson of Golf Pro, Craig Malone, was the winner of our first "Allen Coursey" Sportsmanship Award. This award was voted on by the other juniors throughout the week. We look forward to next year's clinic and we hope everyone has signed up for our Allen "A" Coursey Memorial Tournament to benefit Junior Golf, Saturday, July 29th.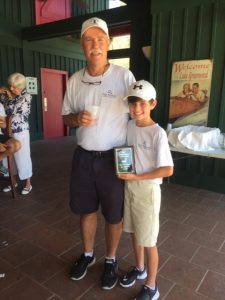 This week join us for all of our weekly events! Members be sure to sign up for 9 & Dine, Weekend Dining and go ahead and RSVP for Steak by the Ounce Wednesday, July 26th. Have a great week!!