We are pleased to announce the arrival of our new General Manager, Bob Swezey (pronounced 'Sway-zee'). We've been searching for the talents that Bob brings to the Club as our brand and reach continues to grow.  We are excited to bring a highly experienced manager to take Grand Harbor to greater heights.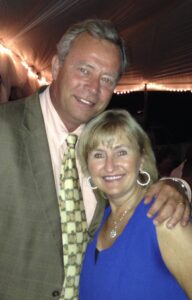 "Grand Harbor is a wonderful community with a great membership, golf course and amenities. Kellie and I can't wait to add value to all operations and join the Grand Harbor Family." – Bob & Kellie Swezey
Experience:
PGA Member for 35 years
Golf management, resort / recreation amenities, hospitality, entertainment, lodging, real estate development, sales/marketing, HOA's
Oversight of over 40 golf/resort properties in his career through the PGA Tour, Kemper Sports and large residential/commercial developers.
Regional and national awards for excellence and leadership through the PGA, National Golf Owners Association and National Golf Foundation
Has served on over a dozen Board of Directors for charities, foundations, college athletics and HOA's
Background
Originally from Chadds Ford, PA
Attended the University of South Carolina
Personal
Married to Kellie (originally from Indianapolis)
Two children and a grandbaby girl
Interests include family, college sports, art, horses & traveling
Bob and Kellie, welcome to the Grand Harbor Family! Our staff and membership look forward to your leadership!